ZX80 Emulator Cartridges for Sinclair Interface 2
General Description
Paul Farrows, www.fruitcake.plus.com, has written some modified roms for the Sinclair Interface 2, ZX Spectrum and ZX Spectrum+ 128K and later 128K computers to emulate the ZX80 and ZX81. His page on these roms is very detailed and i will only summarize it in short here. If you are interested in using these cartridge for more than just testing and loading a ZX80 game, then you should visit his site.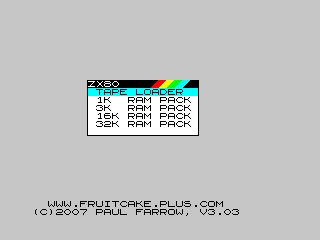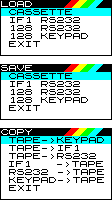 These roms make a Specci run as a ZX80 at a very high degree of compatibility. You can choose from 4 memory setups, video display, keyboard and load/save routines are patched to work with the Specci hardware.
With every key press the "fast" mode, when the CPU does not cooperate to draw the TV display, is replicated within the limits of the Specci hardware. The screen update must be emulated, as the ZX80 has a completely different, character-based b&w only screen display. Because the ZX80 uses ram at address $4000 for the display file, the Specci display cannot be located at this address to, because then you would see the bytes poked into the ZX80 display file on the Specci screen 'as is'. Instead the possibility of the 128k Speccies to use a display file at $C000 is used. With every interrupt the display file of the ZX80 at $4000 is examined and a corresponding image at $C000 is drawn. Because the memory from $C000 upward is used for the ZX Spectrum's display file, these roms cannot emulate a ZX80 expanded to more than 32k ram.
Paul Farrows has also written some utilities to transfer a file to the emulated ZX80 or ZX81, which are summarized on my ZX81 rom page.
About the Different Roms
Below are the roms. There are 3 Roms to be used with an Interface 2 on a 128k Specci. They incorporate a modified ZX80 rom, just the i/o routines are redirected to the new routines and the interrupt routine now includes Paul Farrow's screen update routine.
The 3 different versions are:
based on the original ZX80 rom

based on a debugged version of the ZX80 rom by George Wearmouth

based on the ZX81 8K rom upgrade for the ZX80
Older versions of Paul Farrow's roms are in the old version folders and include some roms to be used with a modified 48K ZX Spectrum or to replace a 128K Specci's internal rom.
Archive