Welcome to Kio's Sinclair ZX Computers Archive.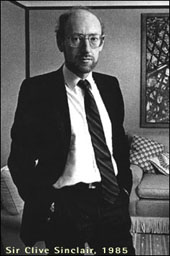 This site covers the Amstrad and Sinclair ZX computers ZX80, ZX81 and the ZX Spectrum models, Timex TS and TC licensed versions, Eastern and South American clones and the Jupiter ACE, together with hardware extensions and software available for these computers.
There are also sections for Sinclair's calculators, other computers and other inventions and other Amstrad computers like Joyce and CPC which are not meant to be part of the archive, but linked at this location on my local hard disc.
The Sinclair ZX Computers Archive tries to preserve the memories and feelings of the early home computer era by preserving images, technical information and programmes for these machines. Fetch an emulator or a real machine and revive memories!
Today, 16th September 2021, Sir Clive Sinclair died aged 81, in London.
Sir Clive Sinclair was born on 30. July 1940 near Richmond, Surrey, England, invented many electronics products since the sixties like audio amplifiers and calculators, a variety of home computers, most notably the ZX81 and the ZX Spectrum, and some interesting life style products like Mini TVs, the Sinclair C5 and the A-bike folding bicycle.
He was knighted in 1983 for his success in making home computers available for the masses.
The different models are sorted into 3 groups of highly compatible machines which can be thought of as years:
80/  for the ZX80, ZX81 and compatible machines, including the Jupiter ACE,

82/  for the 16/48K colour Speccies and clones and the Timex machines, and

86/  for 128K machines, most of them produced by Amstrad.

Archive