zxsp – the Sinclair ZX Home Computers Simulator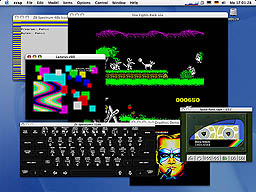 zxsp is a simulator for the historic Sinclair ZX home computer family for Mac OS X. The current version only supports Intel-Macs. Versions for Mac OS Classic, PowerPC and old versions of Mac OS X are available from the Old versions/ directory.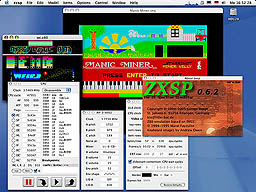 zxsp simulates the black&white models ZX80 and ZX81, the Jupiter Ace, the ZX Spectrum models with 16K and 48K ram, the Spanish clone from Inves, the +128, +2, the +2A/+2B and the +3 including the Spanish and French localised versions, the Portuguese TC2048 and the TS2068-based machines TS2068 (USA), TC2068 (Portugal) and unipolbrit 2086 (Poland). If you still own one of the emulated machines and find that the simulation does not match the original, you are welcome to contact me for further improvement. Just keep the original thing ready for testing. :-)
zxsp can load from and save to a built-in virtual tape recorder or a real-world cassette recorder or a real-world computer. It also can dup real-world cassette tapes to ".tap" and ".tzx" files or vice versa.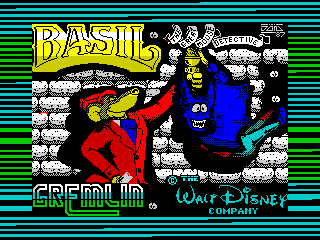 zxsp supports ".sna", ".z80" and ".ace" snapshot files, ".tap", ".tzx", ".80", ".81", ".o", ".p", ".wav", ".aiff" tape files, ".dsk" disc files, ".dck" TCC dock files, ".img", ".dmg", ".iso" and ".hdf" hard disc images, ".scr" and ".gif" animated screenshots, excellent sound, precise screen and border effects, joysticks, a virtual tape recorder and virtual keyboards.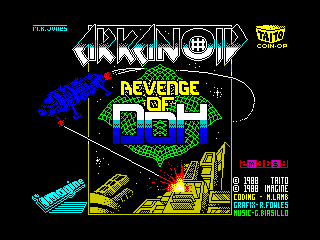 zxsp comes with a debugger with register edit for the main chips and various memory display modes, a video beam position indicator, single stepper and memory disassembly. The machine can be throttled down to 1 Hz or overdrived to 20 MHz cpu clock. You can directly load Z80 assembler sources into zxsp or you can use zasm for assembling. The built-in assembler is a spawn of zxsp, so you may want to look into the zasm documentation anyway.
2015-05-18 - Version 0.8.0pre27
This is the current development version of zxsp. It requires an Intel Mac and it is compiled for Mac OS X 10.6 (Snow Leopard), Mac OS X 10.7 (Lion) Mac OS X 10.8 (Mountain Lion) and Mac OS X 10.9 (Mavericks), but i expect it also runs on OS X 10.10 (Yosemite). This is a snapshots of the current state of development. Scroll to the end of this page to find the downloads. Versions for Mac OS Classic, PowerPC and old versions of Mac OS X are available from the Old versions/ directory. See my blog for the latest changes.
New in this version: Emulation of Romantic Robots' Multiface ONE, 128 and +3
2013-06-04 – Follow me on the zxsp Blog
While this is the official download page for zxsp, i moved my regular postings about news and releases to a blog on blogger. All news about the version 0.8.0 prereleases are posted there. Visit and maybe bookmark it somehow.
Feature Summary
as of 2015-05-18 for version 0.8.0pre27
Supported machines:
ZX80, ZX81 and Jupiter Ace

TS1000 and TS1500

Brazilian TK85

ZX Spectrum 16k, 48k issue 2 and 3, 128k, +2, +2A and +3

Spanish Inves ZX Spectrum+ and Spanish Sinclair ZX Spectrum+ 128K, +2, +2A and +3

French +2

Brazilian TK90X and TK95

Portuguese TC2048 and TC2068

US American TS2068 and Polish unipolbrit 2086
Features:
Multiple instances

Screen zoom factor x1 to x4

Fullscreen mode

Excellent stereo sound

Precise screen and border effects

Virtual tape recorder and keyboards

Save highres and flashing Gif screenshots and record Gif movies

Sound effects

Convert between tape file formats
Supported file formats:
Load .sna, .z80, .ace, .tap, .80, .81, .o, .p, .tzx, .wav, .aiff, .dsk, .dck, .img, .dmg, .hdf, .iso, .rom, .ass and .scr files

Save .sna, .z80, .ace, .tap, .80, .81, .o, .p, .tzx, .dsk, .img, .dmg, .hdf, .rom, .scr and .gif files

All tape files can be instant-loaded (if using the rom routines)

Load .sna, .z80, .ace, .tap, .o, .p, .80, .81, .rom files from assembler source


record and

play audio files.
Supported real-world machinery:
Load from and save to real-world Specci or cassette recorder

USB joysticks and game pads
Supported virtual peripherals:
Several joystick interfaces

Sinclair Interface 2 for joysticks and rom cartridge

Kempston mouse interface

Several audio add-ons

Several ram extensions

SPECTRA video interface

Timex Sinclair 2020 tape recorder

Lenslok

DivIDE Compact Flash and IDE Hard Disk interface

New! Currah µSpeech

New! Romantic Robots Multiface ONE, 128 and +3
Integrated debugger:
Speed control from 1 Hz to 20 MHz

Load assembler and C source (see zasm for details)

Z80, Ula/CRTC/MMU and AY sound chip register edit

Single stepper

Misc. memory views incl. disassembly

Breakpoints for exec, read or write access

Video beam position indicator
The Files: